Goodstone Living and Elements Europe break ground at UK's largest modular build-to-rent residential community
Goodstone Living and contractor Elements Europe have officially broken ground on the construction of its next generation build-to-rent neighbourhood in Digbeth, Birmingham.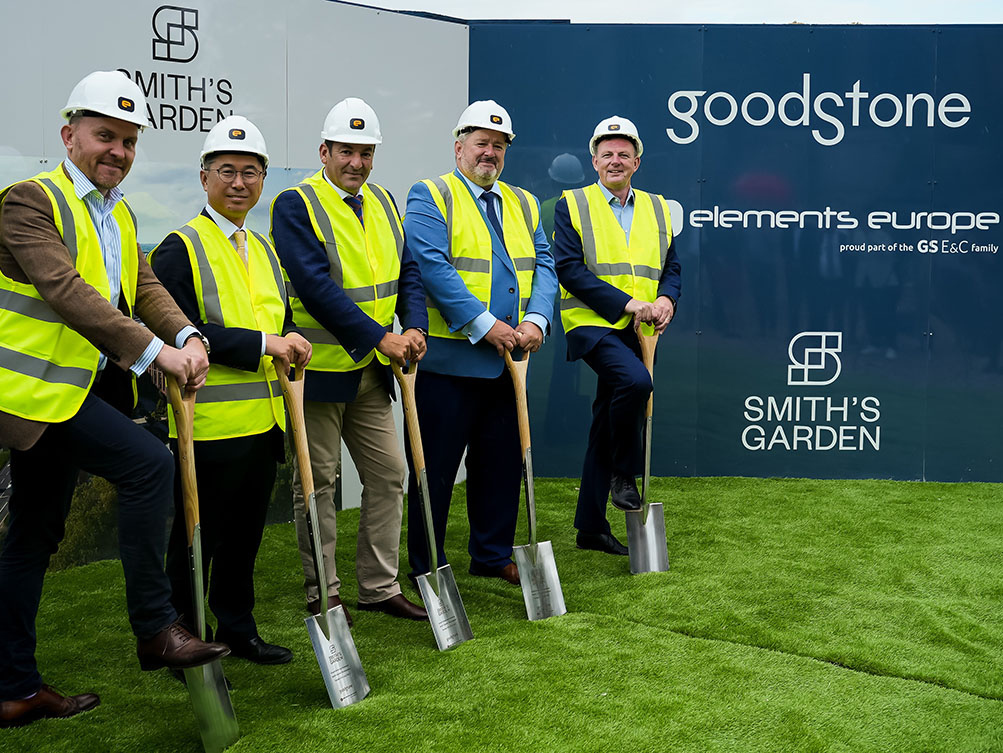 Once completed, the "Smith's Garden" scheme will comprise 550 new homes centred around over an acre of private garden – one of the largest in central Birmingham. Other amenities include a co-working space, fitness centre and a creche. The buildings will be manufactured offsite by Elements Europe at its nearby modular factory in Telford.
The ground-breaking ceremony was held to mark the occasion, attended by Birmingham City Council councillor Yvonne Mosquito, Korean conglomerate GS E&C – owners of Elements Europe - and other key stakeholders. Project stakeholders include Walsh Construction, Cast Consultancy and Darling Associates Architects.
The first building at Smith's Garden is expected to complete in January 2025, with the entire scheme to complete in 2026. Goodstone Living now has almost 1,000 units under construction, with its community of at least 338 build-to-rent homes in Edinburgh's Leith, branded Dockside, also under construction.
Lee Hawkins, Construction Director, Goodstone Living, said: "Construction start at Smith's Garden is another important milestone for Goodstone and a further illustration of our long-term commitment to the areas in which we operate.

"Smith's Garden will raise the bar for sustainability, social impact and innovative construction methods. Relative to industry benchmarks, we will be reducing embodied carbon emissions by over 30% and operational emissions by over 50%. This will be achieved by pioneering new technologies, full electrification of the scheme, and the prioritisation of local materials wherever possible.

"As part of our social value strategy, we will also generate at least 75 jobs and deliver over £2 million of socio-economic benefits for the local community."
David Jones, Chief Executive Officer, Elements Europe, said: "Elements have been supporting Goodstone Living for the past two years to develop the scope and design to enable this landmark ground-breaking ceremony to be realised. We are delighted to be working with Goodstone Living as both main contractor and module manufacturer on what will be the largest modular build-to-rent project to date in the UK, constructed utilising off-site manufacture and modern methods of construction with significant benefits to the local community and environment.

"Smith's Garden is one of several schemes that Elements Europe are involved with that demonstrate the significant benefits of modular construction as a viable option to deliver projects both quicker and with reduced community and environmental impact."
Councillor Yvonne Mosquito, Bordesley and Highgate Ward, said: "This development will bring much-needed housing to the local area. It will do so in a sustainable manner and offer long-lasting employment and socio-economic benefits to the local community."