Goodstone Living secures debt financing and appoints construction partner for the UK's largest modular build-to-rent residential community
Goodstone Living is pleased to announce that it has secured over £100 million of debt financing and appointed a construction partner to support the delivery of the UK's largest modular build-to-rent residential community in Birmingham.
The debt financing, provided by NatWest and Allied Irish Bank, will support the transformation of a 4.2-acre island site in the heart of Birmingham's creative quarter, Digbeth.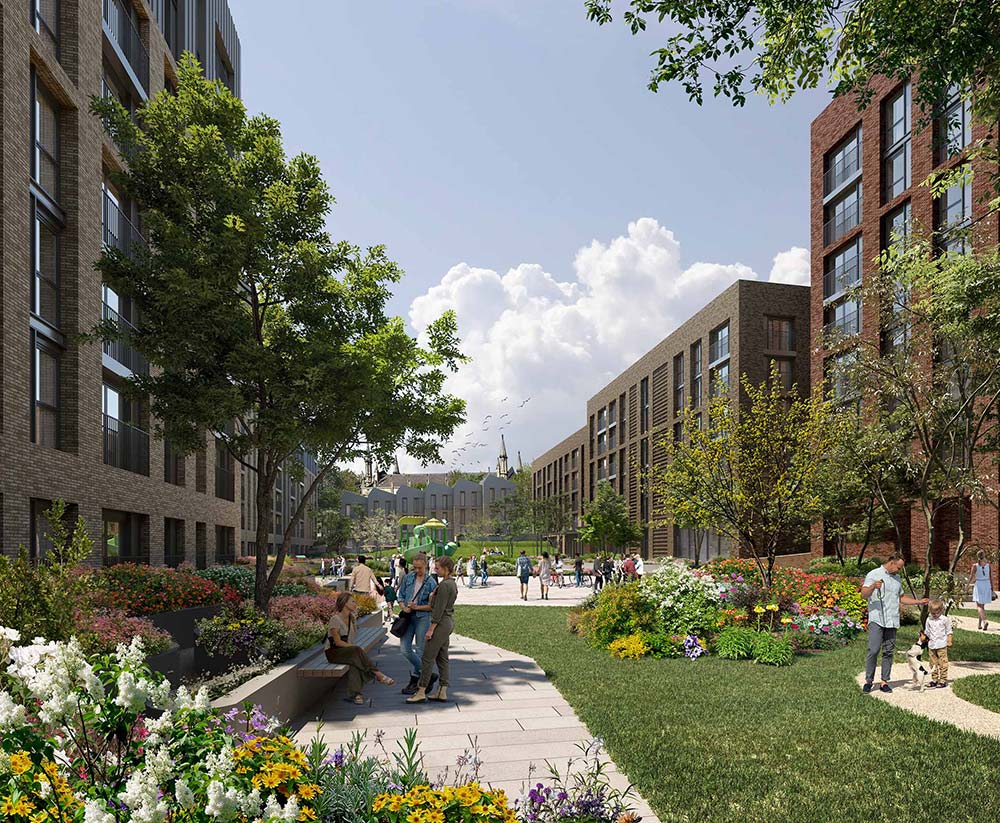 The build-to-rent residential community, branded 'Smith's Garden', will comprise 550 next generation rental homes centred around over an acre of private garden – one of the largest in central Birmingham. Other amenities include a co-working space, fitness centre and creche.
The design-led homes being developed by Goodstone Living at Smith's Garden will be spread across six buildings, including a 26-storey landmark tower. The buildings will be manufactured offsite by Elements Europe at its modular factory in Telford.
In preparing this scheme, Goodstone Living's specialist team has successfully applied a series of pioneering design, innovation and sustainability principles to ensure its position at the forefront of this rapidly evolving sector.
Goodstone Living will reduce embodied carbon emissions during construction by more than 30% (vs. RIBA 2025 benchmark) through its use of cement-replacement with ground granulated blast furnace slag, and locally manufactured, volumetric modular construction. It will also reduce operational carbon emissions by more than 50% (vs. Part L 2021 Building Regulations) by implementing the latest heating and enhanced building fabric technologies. This includes fully electrifying the scheme with an air source heat pump in each apartment, on-site energy production and triple glazed windows.
The project will also create community social value by generating over 75 new local jobs and targeting the delivery of over £2 million of socio-economic benefits for the local community through access to learning for local children, apprenticeships and work experience for young people, as well as those with learning difficulties and from under-represented backgrounds. The development will also exceed current fire regulations, with all buildings featuring dual staircases to enhance resident safety and wellbeing.
Construction of this next generation build-to-rent residential community is expected to commence this summer and be completed during 2025.
Andy Street, Mayor of the West Midlands, said:
"Schemes likes this help to drive growth and regeneration right across our region.
"Smith's Garden will be providing high quality new rental homes with high environmental standards in historic Digbeth - at the same time as creating jobs and opportunities for local people and the wider community.
"It's great to see modular construction taking centre stage here - with Elements generating highly skilled jobs in Telford in a factory that will power the delivery of thousands of homes in the months and years ahead. It's also good news that jobs will be created in Digbeth itself during the construction phase. I cannot wait to see this project come to fruition."
Martin Bellinger, Principal, Goodstone Living, said:
"Smith's Garden is one of the largest and most exciting build-to-rent residential projects in the UK and is testament to the evolution of this sector over the past 15 years. We want to show it is not just possible but desirable to build better now, and this helps improve and future proof assets for all of our stakeholders.
"This project also marks an important milestone for Goodstone which now has almost 1,000 units under construction and a large pipeline of development opportunities to scale its portfolio by leveraging the market dislocation driven by a higher rates environment and challenges facing the traditional build-to-sell model."
David Jones, Chief Executive Officer, Elements Europe, said:
"Elements Europe are proud to have partnered with Goodstone Living over the past 18-months to design and prepare the largest modular build-to-rent residential construction scheme to date in the UK.
"Utilising Modern Methods of Construction and delivering the apartments in a fully modular form not only provides programme benefits to our client, but also reduces the construction footprint by over 3,700 less vehicle movements into Birmingham and creates over 35% less construction waste than traditional construction methods.
"We will continue to contribute to the development of MMC in the UK together with GS E&C and The Pickstock Group."
Michael Goode, Director and Build to Rent Lead, NatWest, said:
"Quality build-to-rent is an increasingly important housing tenure for the UK and we are pleased to close our second transaction with the Goodstone team.
"Smith's Gardens' commitments on both embodied and operational carbon demonstrate Goodstone's environmental ambition while its construction will support job creation and regeneration in the local area of Digbeth."
Kieran Redford, Corporate Banking, Allied Irish Bank GB, said:
"As a forward-looking lender it is increasingly important for us to be able to finance schemes that provide much needed new housing that has a positive social and environmental impact while being future proofed against changing market conditions.
"Smith's Garden is pioneering in terms of its construction and environmental considerations while delivering 550 much needed new homes for rent."